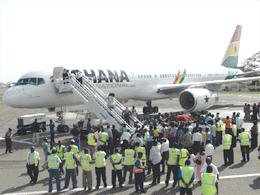 culled from GHANAWEB.com. Ghana International Airways makes its maiden flight

With characteristic pomp and pageantry, Ghana's new "national carrier", as designated by one of our ministries, called GIA, or Ghana International Airways, made its maiden flight Saturday, ending 3 full months of speculation that it could never take off.
I guess everyone would have preferred "Ghana Airways", but, hey, this reality should serve to remind Ghanaians that things can only get better.
Of course, things getting "better" is always ever-so-relative;-)
header
from
GIA website